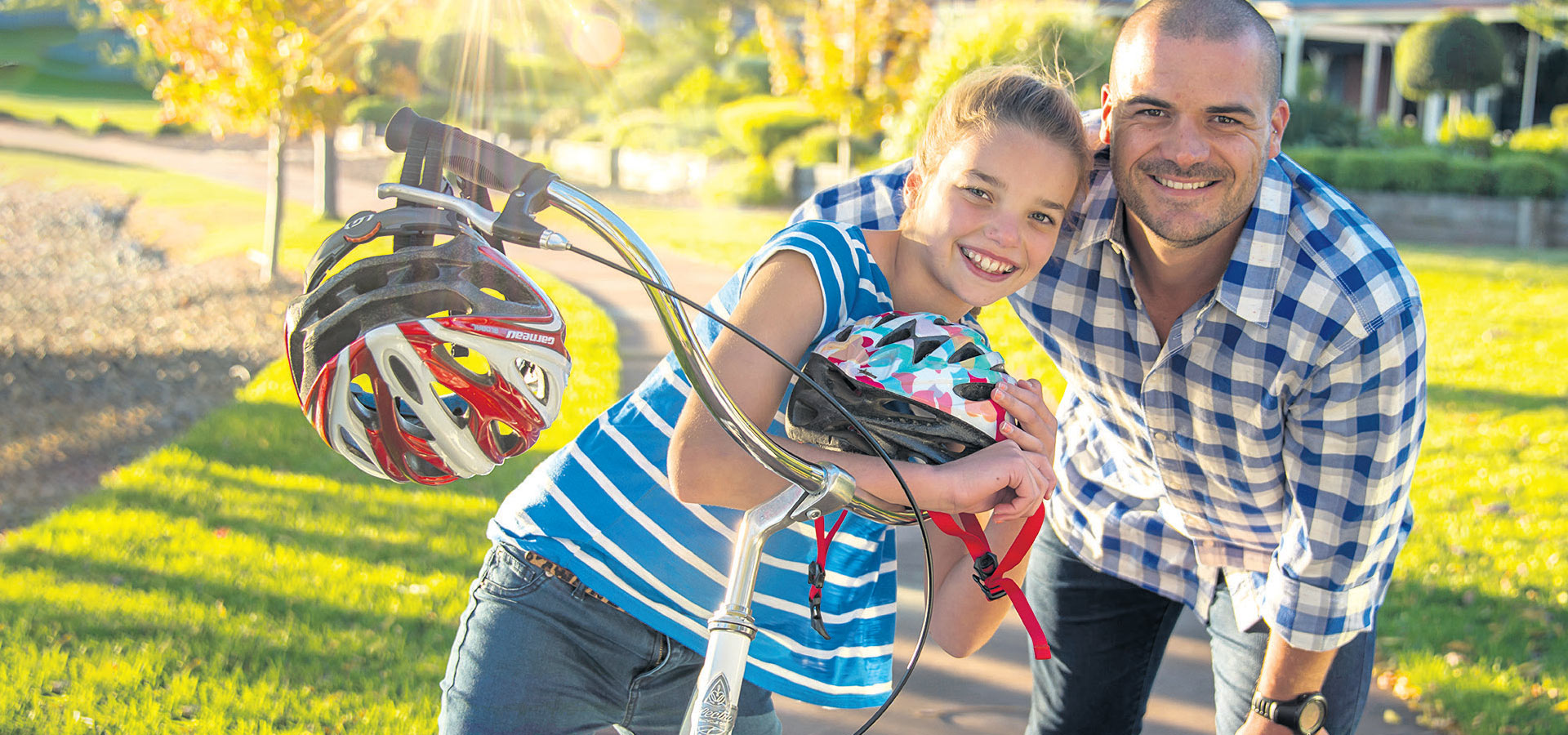 Living in Greater Shepparton
Welcome to Greater Shepparton, one of Victoria's most liveable regional cities!
Greater Shepparton offers the charm of a rural lifestyle combined with all the big city facilities. Everything you need is just around the corner, and it takes no time to get there.
Offering an enviable lifestyle, university options, premiere housing estates, and all the must have facilities, coupled with a vibrant, diverse culture makes living and working here unique.
But don't just take our word for it, hear from some residents that have made the move to live and work in Greater Shepparton. Centrally located – Greater Shepparton is only 2 hours to Melbourne and 1 hr 45 mins to Tullamarine airport.
Working in Greater Shepparton
Health Care and Social Assistance 14.2%, Retail Trade 12.7% and Manufacturing 12.4% with major employers including GV Health, GOTAFE, Goulburn Valley Water, Goulburn-Murray Water, SPC, Campbell's Soup and Greater Shepparton City Council.
Find work in Greater Shepparton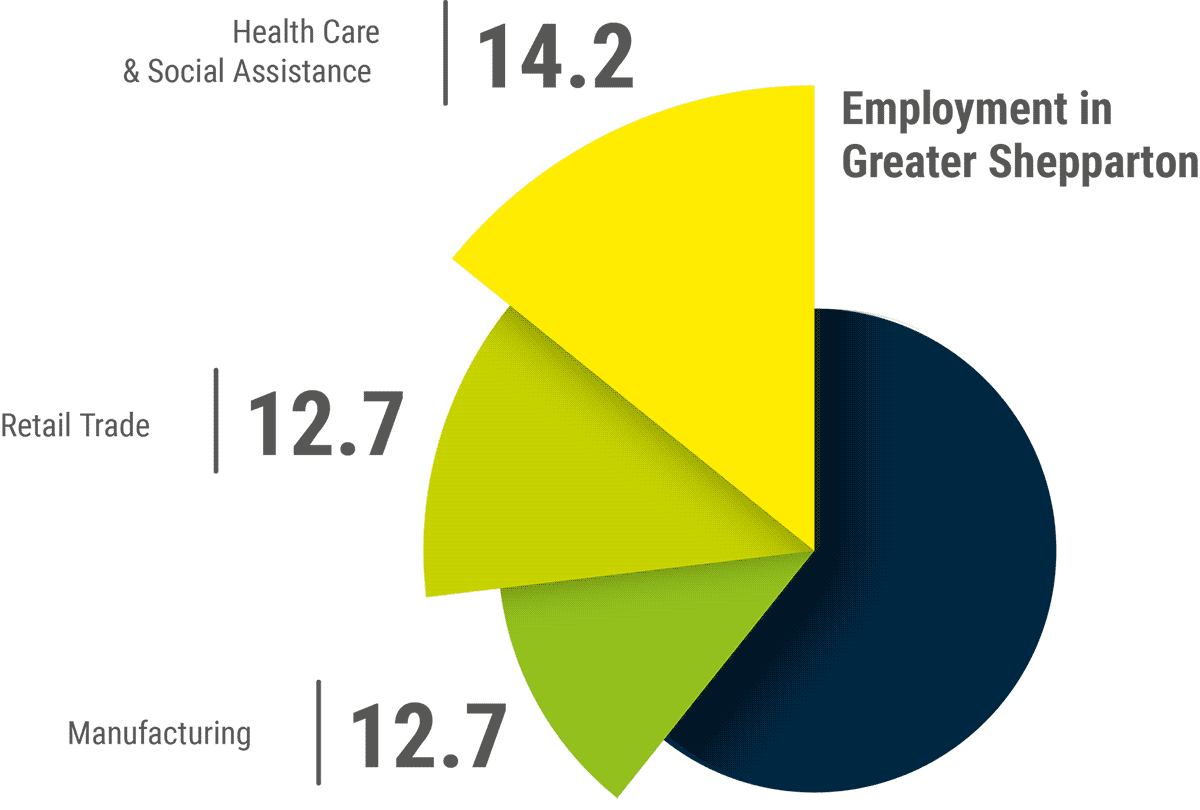 Housing in Greater Shepparton
Average house price $229,000 (as of June 2015)
800m2 land from $115,000?
1 acre land from $165,000?
Real Estate in Shepparton
Educational Options
GOTAFE two campuses, University of Melbourne Rural Health Campus and Dookie Campus, La Trobe University, six secondary schools (including private schools), 26 primary schools, 27 kindergartens and 15 long day care facilities.
Health Services
Greater Shepparton is home to numerous GPs, physios, myotherapists, wellbeing centres and even plastic surgeons! There are two hospitals, GV Health (public hospital) and Shepparton Private Hospital.
Sports, Events & Festivals
Greater Shepparton is a strong sporting community and is recognised as regional Australia's sporting capital. Development is underway of a $19m Greater Shepparton Regional Sports Precinct that will see up to 11 different sporting codes housed in one central location. Greater Shepparton hosts many international, national and state sporting events such as BMX nationals, Monster Energy National Moto Cross, softball masters championships, annual state-wide junior basketball tournament and World Cup Equestrian Qualifying just to name a few.
Art & Culture
Shepparton is home to the Shepparton Art Museum (SAM) housing a significant collection of Australian and International Ceramics. SAM's collection also includes historical and contemporary Australian landscape paintings, prints and sculpture, and a growing collection of Australian contemporary art. SAM has an active exhibition program that includes curated, local community and touring exhibitions. Shepparton Art Museum
Theatre - Riverlinks is the home of performing arts and live entertainment in Greater Shepparton. Whether it's comedy, dance, music, theatre or children's shows, Riverlinks offers a full 12 month program of entertainment. Riverlinks
Staged every year since 1997, the Shepparton Festival is regarded as a major calendar event within regional Victoria. The Festival places an emphasis on mixing community created arts with professionally produced and performed work, hosting a strong annual program of touring professional performing arts events. Shepparton Festival
Diversity
Greater Shepparton is renowned for its cultural diversity and the welcome we extend to new arrivals with just over 13% of the population identifying as being born in a country other than Australia. We also have the largest indigenous population in regional Victoria. We celebrate our diversity in many ways through art, events, festivals and experiences.
Fun for the whole family
For the kids there are endless activities to do including KidsTown, Aquamoves and Splash Park, All Abilities Playground, Fun City, Go Jump Trampoline Centre, Emerald Bank Leisure Land, multi-cinema complex, ten pin bowling, Belstrack Strawberry Farm and Chocolate Apple Factory just to name a few!
For the adults we have Tallis Wine, Longleat Wines, bars, dinning out at hotels, restaurants and cafes, shopping and the motor museum. Oh, and the Chocolate Apple Factory is worth a visit by adults too!
Top 7 reasons to move to Greater Shepparton
Relaxed lifestyle and pleasant climate – more sunny days than Queensland!
No peak hour traffic (unless you get two red lights in a row) and easy access to everything!
Centrally located only being 2 hours from Melbourne (1 hr 45 mins hr from Tullamarine Airport) and close to the wine, high and snow countries.
Quality housing.
Extensive range of Education opportunities.
Job opportunities or even start your own business!
Extensive sport, art, culture and history events and festivals all year round.